Adjustment to current times by doing Remote Teardowns
Unusual times give rise to new opportunities. Due to the measures taken to protect against the spread of COVID-19, visitor traffic is currently restricted at EagleBurgmann global locations. If it was not for the creative thinking of our EagleBurgmann team and our customers, this would be a major problem for those processes which traditionally require customers to be physically present. One of these processes is the witnessed teardown of critical customer equipment.
Whereas EagleBurgmann always communicates recommendations for product upgrades or improved performance while completing a service or teardown, many customers like to be physically present during their critical equipment teardown to witness the process and to have an opportunity to exchange thoughts with EagleBurgmann experts to better understand the failure mechanisms and improve future designs.
In order to continue this valuable exchange of information, the EagleBurgmann Houston and EagleBurgmann Baton Rouge Service Centers kicked off Remote Teardown sessions.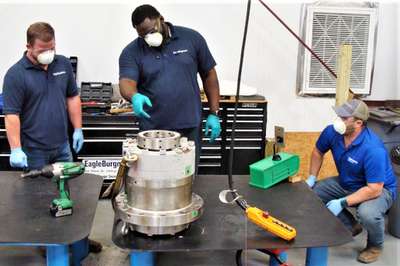 During these Remote Teardown sessions, high resolution cameras are combined with a strong Ethernet connection to stream all activities live to the customer. The customer can dial in via the chosen collaboration solution (MS Teams, FaceTime, etc.), and can follow the teardown, step by step.
"Our most recent session was attended by several customer Maintenance Technicians, Maintenance Engineers, as well as the Maintenance Supervisor and Maintenance Manager, who dialed in from two locations in Louisiana" explains Johnny Cothern, Regional Territory Manager for EagleBurgmann. "We carefully plan the session well in advance, so we have a clear playbook available ensuring that all Remote Teardown steps are well visible to the customer. At the start of the session, we explain all the steps we will be taking, and we capture any questions or requests the customer might have. As the teardown progresses, we narrate every step, and zoom in on every individual step to ensure the customer has full visibility of all activities. The customer might ask for samples of forging material founds, O-rings to be marked, surfaces to be wiped for better viewing etc.: all this is easily achieved during these remote sessions. Any time the customer has questions, these questions are addressed, supported by detailed zoom-in on the equipment if requested". The session is concluded with an agreement on the path forward, and the generation of the teardown report.
Just like with the in-person teardown, the customer has full opportunity to talk to the EagleBurgmann experts. The latest Baton Rouge teardown was attended by the respective EagleBurgmann Territory Manager (lead), an EagleBurgmann Field Service Engineer, and 2 EagleBurgmann Seal Repair Technicians., all of whom exchanged valuable information with the customer.
While not the same as being present in person, customer feedback has been very positive. "Not only does it address the social distancing requirements, it also allows our critical employees to limit out of office time, which is not only good from a company time and cost perspective, but it also helps with limiting travel for our employees" stated our recent customer. "The process worked out better than anticipated and will be used as an alternative for all future inspections".
As champions of sustainability and environmental footprint, EagleBurgmann and its customers also enjoy the reduced environmental impact the Remote Teardown sessions create as a result of the reduction in travel.
If your company would be interested in engaging in a remote session for any process requiring customer witnessing, please contact your EagleBurgmann Territory Manager or Service Center.